Protection and Comfort
Developing the OXYGEN Aerolyte System, we decided to tackle a tough challenge: to combine a high level of protection with the personal comfort, the surgeon team needs to stay sharp and focused.
The unique two fan system
Wearing a protective suit can cause hot and humid waste air to get trapped in your suit. To keep your body cool, our patented two fan system pushes waste air through a filter out the suit, making room for fresh breathing air.
OXYGEN System Components
Helmet, battery and charger are the non-sterile 'hardware' of the system, hood and toga are sterile, single use gowns that are designed for perfect fit.
Technical Specifications
The lightest OXYGEN Aerolyte with two fans and easy to adjust headband (single action adjustment for your comfort).
*… with a new, 100% charged battery pack
OXYGEN Aerolyte Helmet with LED Light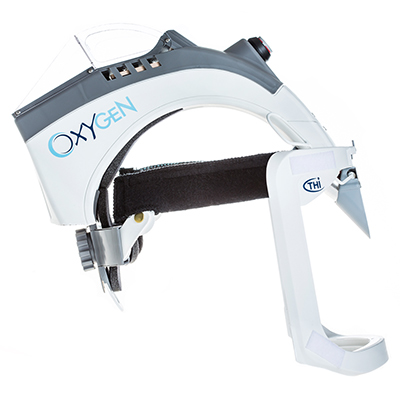 Technical Specifications
min. 4h (max fan, light on)
The powerful, single beam LED-lightsource is aligned with the user's line of sight to ensure a perfectly illuminated deep incision.
*… with a new, 100% charged battery pack
Battery Pack & Charger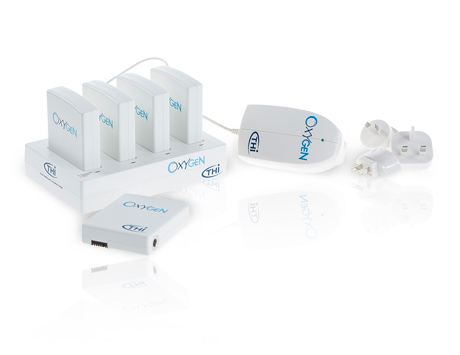 Pocked-sized Li-Ion battery with 43.6 Wh capacity. 250g weight. Charger with four charging slots and power plug.
OXYGEN Hood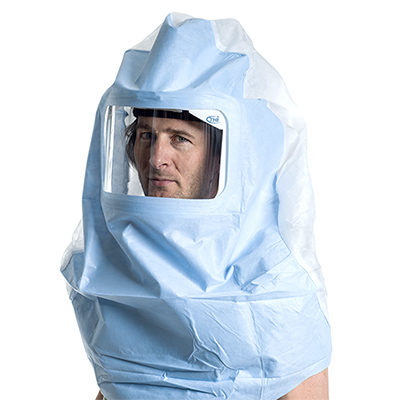 Stand alone head cover, use it in combination with a separate surgical gown. Designed to meet AAMI Level 4 and EN 13795 requirements. Breathable viral barrier with large filter on the back, one size fits all, single use, EO sterilized.
OXYGEN Toga
One-piece head and body cover. Designed to meet AAMI Level 4 and EN 13795 (high performance) requirements. Available in 3 sizes. Convenient zipper on the back. Single use, EO sterilized.
OXYGEN Aerolyte Surgical Helmet XS - XL
OXYGEN Aerolyte Surgical Helmet M - 4XL
OXYGEN Aerolyte Surgical Helmet XS - XL with LED-light
OXYGEN Aerolyte Surgical Helmet M – 4XL with LED-light
Battery Charger incl. power supply
OXYGEN Sterile Lens Hood (20 per case)
OXYGEN Sterile Toga, size XL - XXL , (20 per case)
OXYGEN Sterile Toga, size M-L, (20 per case)
OXYGEN Sterile Toga, size XXS - S , (20 per case)
Replacement Foam Kit OXYGEN Aerolyte (1 set)